The Brood Jennets of Cedar Creek Farm
We feel that at least half (perhaps more) of the success of one's breeding program depends on the quality of the jennets used for breeding. Consequently, by acquiring top quality jennets with outstanding pedigrees, we have a foundation brood jennet herd that is producing top halter and performance donkeys. Our very small, select herd of brood jennets includes daughters of such legendary foundation donkeys as Valintino 50th, Jennie Sam, LN Neek. All of our younger brood jennets are former show donkeys and over 50% of our brood jennets have produced champion offspring. Two of our jennets have earned the points necessary to be awarded the ADMS Merit of Breeding award.


(All photos are clickable to enlarge)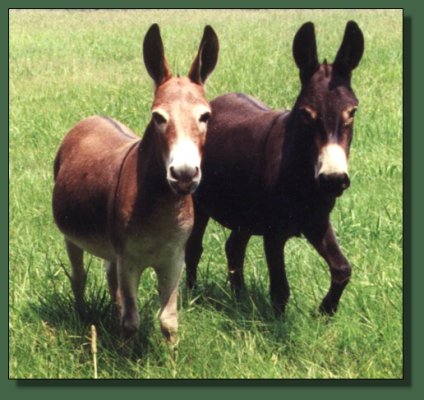 Foxy and Glory are enjoying a summer day in their pasture.
---
Cedar Creek Farm's April Love (dob 4/01) is a dark brown 32 ¾" jennet by our LN Redsonne and out of Polly. April is one of the top winning show jennets in the country having been named NMDA Year End High Point Jennet two years in a row. In addition, she has earned her ADMS Versatility Hall of Fame Award. She was also the first miniature jennet to obtain the ADMS Supreme Driving Award. As April has been so busy in the show ring, she was not bred until she was 7 years old. Her first foal was born when April was 8 years old (2009). Her first foal, shown in the picture with April is Cedar Creek Mini Cooper, a gorgeous brown jack by Foxbow. Also see April on the Awards page.
---
Cedar Creek Farm's Fancy That (Dob 4/02) (32.75") is one of our best show jennets. She is by our senior herdsire, Sonne and out of our lovely show jennet, Glory. (Glory has earned the ADMS Merit of Breeding award as a result of show wins by her foals.) Fancy is one of the top show jennets in the country, being NMDA High Point Jennet of the Year twice, she has won 13 High Point and 5 Reserve High point awards (including wins at the NMDA National shows) and she has been halter Champion or Reserve Champion 7 times. In addition she has earned the ADMS Versatility Hall of Fame Award and the prestigious ADMS Supreme Driving award. She had her first foal at the age of 9 years old and her baby looks to be outstanding!
---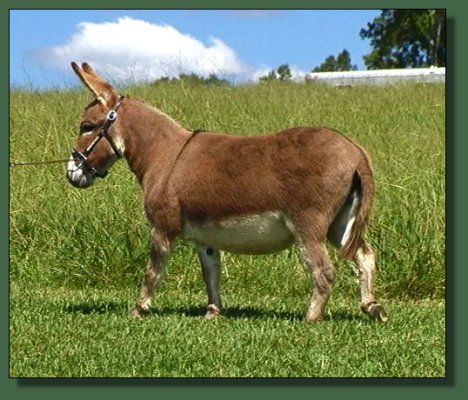 Sunset Acres Sweet Muffy (32", DOB 6/97) is a gorgeous bright red jennet (pictured heavy in foal) that has already produced several halter winning foals. Muffy is a stocky, pretty headed jennet with great legs and a tremendous hip. She is a daughter of the great Valintino 50th and out of a daughter of My World Buster.
---
Belle E Acres Little Red Julie (31.75", DOB 9/92). We were fortunate to be able to acquire this "once in a life time" beautiful sorrel jennet. She is out of Belle E Acres Jennie Sam, one of the great foundation jennets of the breed. Julie's sire is Lazy N Nehemiah, the sire of the well known halter and performance champion, LN Redsonnehi, and National Champion, LN Scorch. According to one well respected miniature donkey breeder who owns several Jennie Sam offspring, Julie is the best of the Jennie Sam daughters. Julie is a champion producer, and two of her sons are herd sires for two well know donkey farms (Engman Ranch and Cyder Bay Farm).
---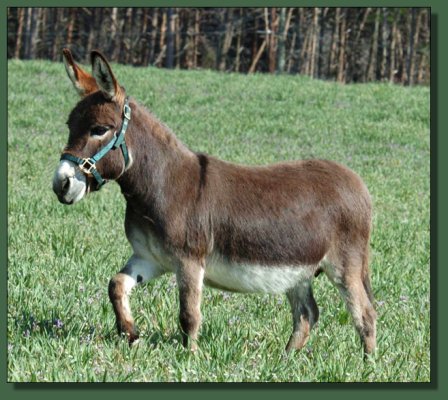 ~For Reference Only~


LN Pollyahna ( 31", DOB 3/98) is by the well known black jack, Gladybrooke Pitch Dark, and out of a daughter of LN Redsonnehi. Poly has done well in the halter ring with limited showing. She has produced three foals to date, two of which we have kept. Her first foal, Cedar Creek Farm's April Love, was the 2004 ADMS National Champion Miniature Donkey. In 2005 Polly received the Merit of Breeding-Lifetime Achievement Award from ADMS as a result of show ring wins of her foals.
---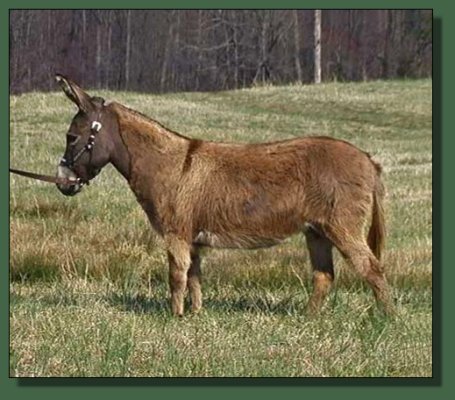 ~For Reference Only~


Tiny Bubbles is a small (31") brown jennet by a Mobetta (Motown) son and out of a daughter of Gladybrooke Skip (the sire of Gladybrooke Pitch Dark). Bubbles has been shown only one time, placing first in her class of miniature jennets at the '99 North Carolina State Fair. Bubbles is pictured one week after foaling, in her shaggy winter coat.
---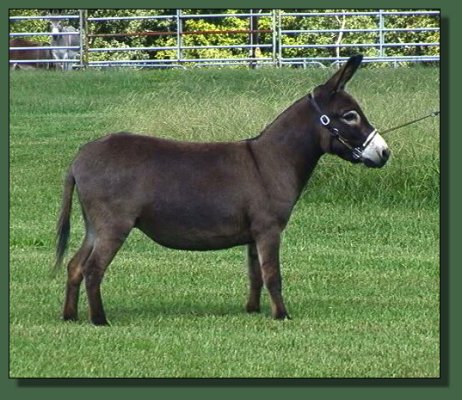 ~For Reference Only~



Lawzyday Farm's Morning Glory (33.5", Dob 1/99) is a lovely dark brown jennet whose pedigree traces back to Philamena and Valintino bloodlines. Shown as a yearling in halter, Glory was never out of the ribbons. Glory is correct with lots of style and ring presence which she passes on to her foals. Her first foal, Cedar Creek Farm's Fancy That, is a constant winner in both halter and performance (see her on our "Awards" page). Glory's yearling jennet, Cedar Creek Farm's Fanfare, (owned by Sandy Triplett) was recently named Champion Jennet at the Dixie Classic Show in Winston Salem, North Carolina.

Update! Glory earned her "Merit of Breeding" award August, 2005, as a result of show ring wins by her offspring!
---
Cedar Creek Farm
7000 NC Highway 86 N
Hillsborough, North Carolina 27278
Phone: (919) 732-6847
E-MAIL
Dayle Haworth, Webmaster
Copyright © 2000-2010 ~ Cedar Creek Farm - All Rights Reserved